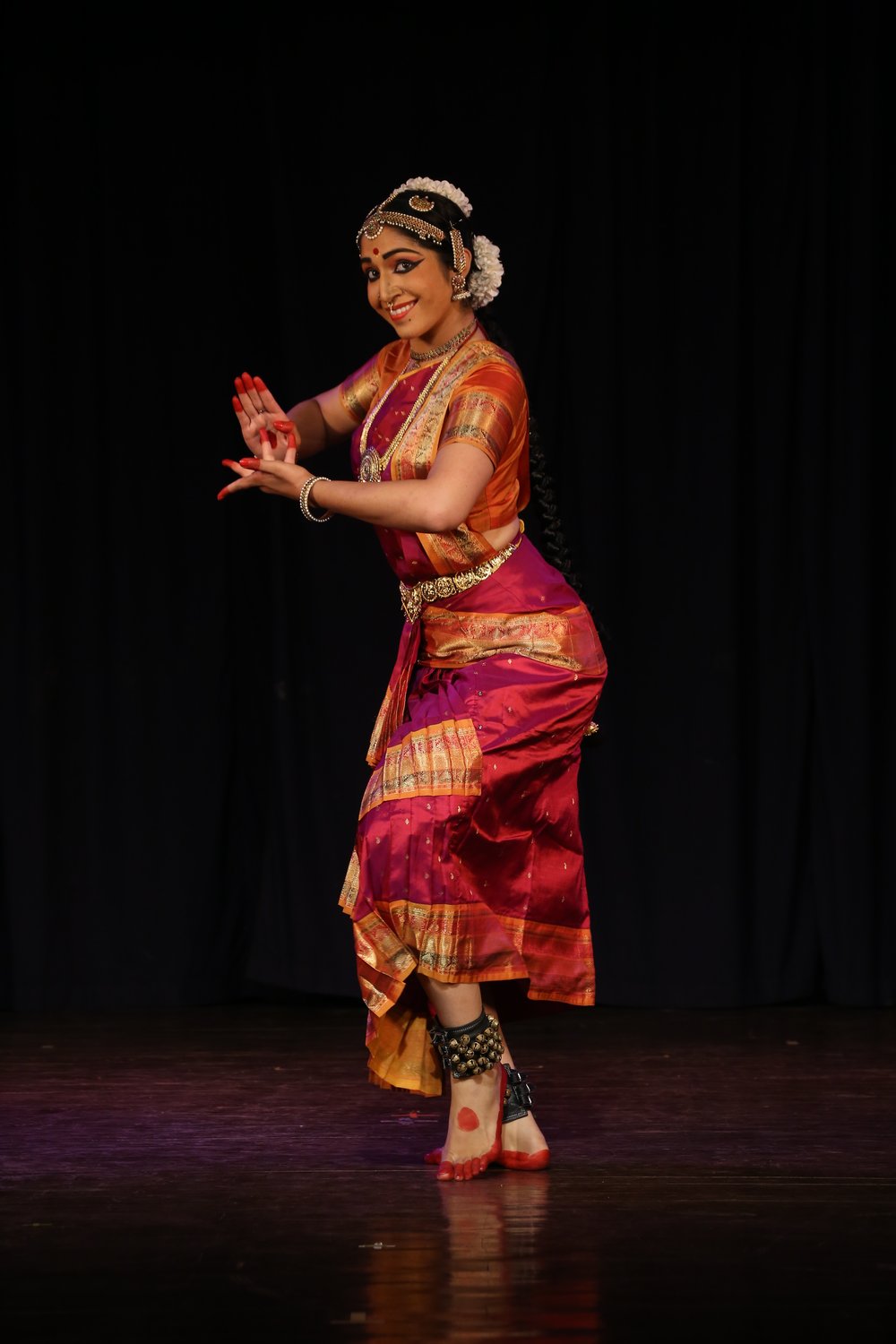 ---
Shreya Iyer (California)
Bharatanatyam
Shreya Iyer is the daughter and disciple of Smt. Suganda Sreenath at Jayendra Kalakendra. Shreya has been learning Bharatanatyam since the age of 4 under her mother and has also completed further training under the Dhananjayans and Smt. Divya Shiva Sundar. After completing her Arangetram in 2007, she attended the University of San Diego for her undergraduate degree in finance and marketing. Since graduating, she has taken up classical dance as her profession and is a teacher and lead dancer at Jayendra Kalakendra. Shreya has taken lead roles in all Jayendra Kalakendra productions including Kalinga Nartana, Guru Vandana, Prakrithi, and Natya Manjari. She also raised funds for the San Jose – Pune Sister Cities organization with her solo recital, Samarpanam, in July 2016.

Shreya has travelled across the United States and India to perform Bharatanatyam. She was invited to be a guest judge and performer at Saptami Foundation's national competition in Dallas, Texas. In the Bay Area, Shreya has performed recitals at Yuva Bharati, Shri Kamakshi Community Center during Vasantha Shivrathri, and Natyanjali Dance festival in Sacramento, CA. She is also a mainstay at Sanatana Dharma Kendra's Maha Shivrathri festival, where top artists in the Bay Area perform yearly.

Shreya has performed in India during the Margazhi Season for the past 3 years, receiving high accolades for her dance. She has performed at many prestigious festivals in India and around the world.
In 2018, Shreya received the 'Natya Ratna' award from Trinity Arts Festival of India. She also is recipient of the Guru T. Balasaraswati Endowment Prize from Krishna Gana Sabha. In addition to performing regularly, Shreya teaches Bharatanatyam classes to the many students of Jayendra Kalakendra, conducts nattuvangam for performances and arangetrams, and choreographs innovative pieces for the school.